Application Security
Webinar "Best Practices for Securing Your Mobile Apps"
January 9th, 2019 | By Jscrambler | 2 min read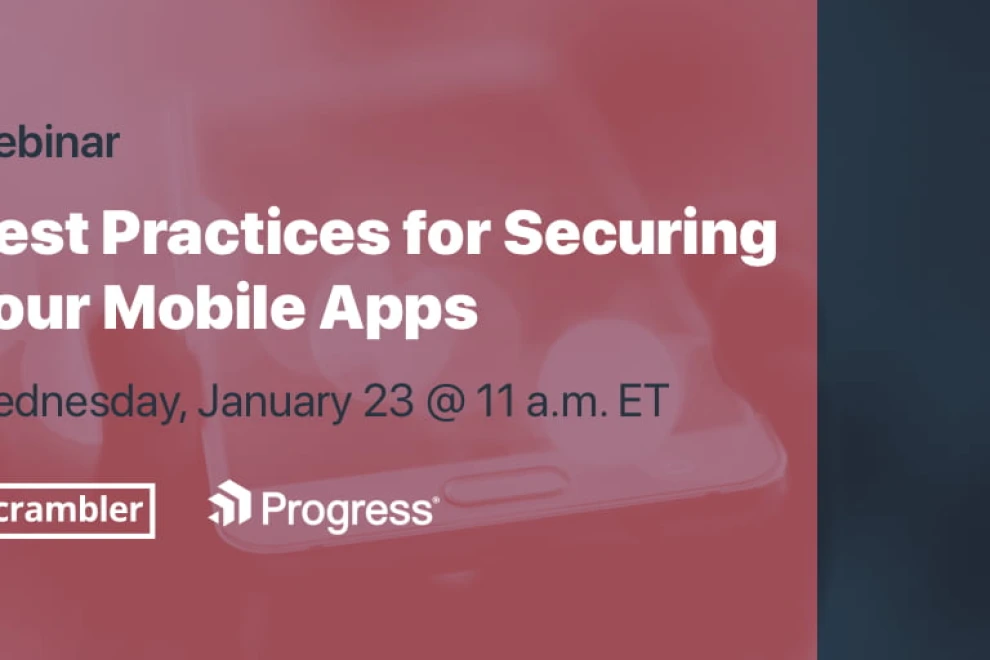 The development of mobile apps has come a long way since its growth spurt in 2010.

While the fact remains that the industry keeps growing at a steady pace, in the last few years, the landscape of mobile development has been shaped by trends such as blockchain, AI, AR, and VR.

As mobile applications grow in complexity and amass users by the millions, we have seen a parallel rise in the number of attacks and data breaches in mobile apps. In the second half of 2018 alone, incidents with the mobile apps of Air Canada and British Airways resulted in data breaches affecting 400,000 users.

Security has become a leading concern for mobile application development.


The Webinar: Mobile App Security


The growing need for employing proper security measures during the mobile development process has led to this in-depth webinar on the Best Practices for Securing Your Mobile Apps.

The webinar, hosted by Rob Lauer, Senior Manager at Progress, will provide an in-depth look into which strategies can be applied to increase the overall security of mobile apps.

We will cover secure authentication and authorization, storing encrypted data safely, and protecting the app's source code.

Pedro Fortuna, Jscrambler's CTO, will address the problem of securing the app's source code.

Pedro will showcase how the client side of mobile applications can be exploited to tamper with the code or reverse-engineer it using a sample NativeScript app. Then, you will also see how to protect the source code of a NativeScript app using Jscrambler and how this protected app becomes protected against all sorts of tampering and reverse-engineering attempts.

The webinar will also feature two other notable speakers, including:
Alex Ziskind, Technical Director at Nuvious;

TJ VanToll, Principal Developer Advocate at NativeScript



You can register for the webinar for free, so be sure to register ASAP and reserve your seat for January 23 at 11 a.m. ET.

Register Now!

In the meantime, protect your app and prosper!


Jscrambler
The leader in client-side Web security. With Jscrambler, JavaScript applications become self-defensive and capable of detecting and blocking client-side attacks like Magecart.
View All Articles
Must read next
Jscrambler
Application Security
Join Our Webinar "Make Your JavaScript App Self-Defensive Against Attacks"
JavScript is here to stay and today, more companies are using it to deploy core services and functionalities, leaving them vulnerable on the client-side. But do they have to be?
December 13, 2017 | By Jscrambler | 1 min read
Jscrambler
Application Security
Javascript
Join Our Webinar "Securing your OTT Clients to Protect Premium Video Content - Jscrambler & Friend MTS"
Online media content distribution is becoming common, and this makes providers vulnerable to attacks, theft and piracy. But do they have to be?
April 20, 2018 | By Jscrambler | 1 min read