About this Webinar:
2018 and 2019 have been the years of eCommerce data breaches. Since June 2018, we've been seeing weekly headlines on companies suffering client-side attacks. Millions of users have been affected by data breaches and credit card theft and attacks are becoming bigger and more frequent.
For the last 30 years, cybersecurity has focused on the server-side and we have extensive information on the best practices to ensure server-side security. Still, attacks are getting much more sophisticated.
Ticketmaster, British Airways and Newegg were recently attacked, and hacker group Magecart was able to steal data from these major companies by injecting malicious code on the JavaScript that these eCommerce platforms are running. Companies have zero control and visibility over what is happening on the client-side. Because of this, months passed before they detected and addressed these breaches. Gaining visibility over the client-side is becoming crucial to identify threats and react promptly.
Guest Speakers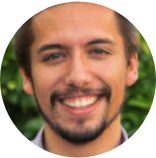 Ricardo Leite
Application Security Expert at Jscrambler
By registering for this webinar you will:
Learn about the eCommerce vulnerabilities that hackers are exploiting nowadays;
See what an eCommerce attack looks like, and how it can be detected and prevented;
Receive a free Threat Analysis for your eCommerce Website;
Receive a free 30 minute, 1 on 1 consultancy session with an Application Security Expert.