Jscrambler
Application Security
Join our Webinar "The importance of truly secure Captchas" - Jscrambler & FunCaptcha
July 6th, 2018 | By Jscrambler | 1 min read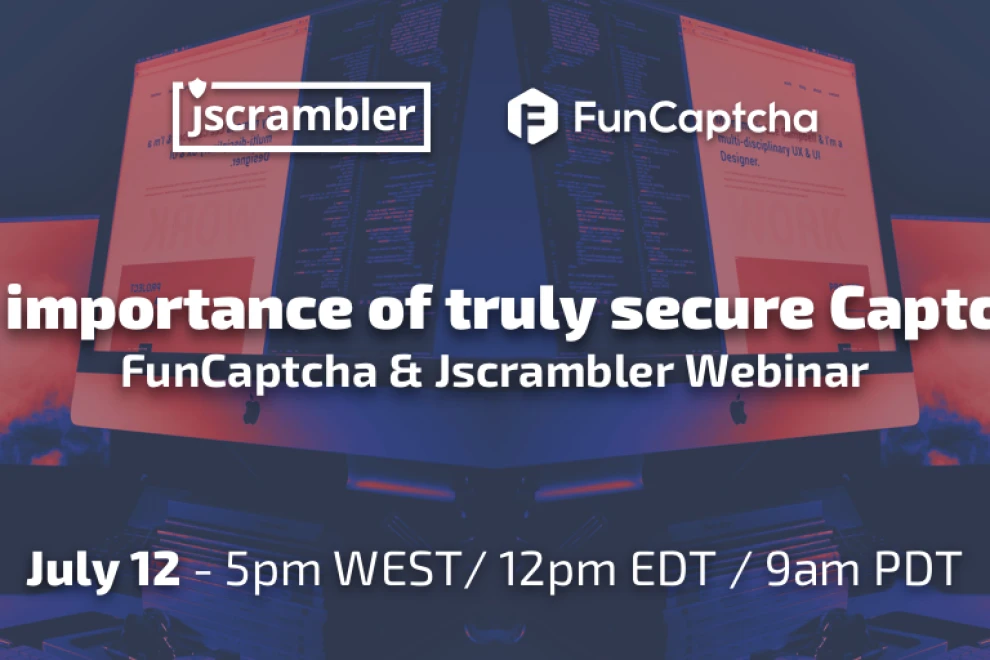 Note: We recently wrote a Case Study based on this webinar.
Today more and more security verifications need to be on the client-side and there's a need to raise the bar in terms of code protection in order to prevent tampering and abuse. This is what FunCaptcha has long acknowledged and that's why they've been using Jscrambler to protect their critical client-side logic.
On July 12 2018, we will explain how FunCaptcha has been leveraging Jscrambler's technology to deliver a reliable and innovative Captcha, resilient to abuse and tampering and how you can do it too. Join our webinar and learn all about it!

Beyond his work at Jscrambler, Pedro is a seasoned AppSec specialist, multiple-time speaker (OWASP AppSec California and USA, Finovate, Bsides, Fullstack, etc) and author of several patents in application security.
Kevin Gosschalk is Co-Founder & CEO of @FunCaptcha. He is also a Speaker at #LocoMocoSec and #AppSec events and a pioneer of SLAs in Anti-Fraud Tech. Australian.
Don't miss your chance and register now for this amazing opportunity!
In the meantime, protect your app and prosper!
Jscrambler
The leader in client-side Web security. With Jscrambler, JavaScript applications become self-defensive and capable of detecting and blocking client-side attacks like Magecart.
View All Articles